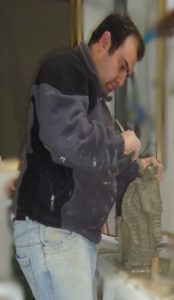 My name is Philip Pisani. I live in Gozo, Malta… a small island in the middle of the Mediterranean Sea. My hobby is clay sculpting. It is a fascinating art, the recognized form of modelling materials, that is, the creation of a 3-dimensional piece of art. My first 3D Figurine was created from scratch. My satisfaction comes from transforming a piece of clay to a 3D work of art.
Today you cannot live without technology. So technology and art are complementary to each other. Here comes my 3DME Figurine.This is a unique technology, that from just photos we create 3D selfies.
In simple words, 3DME Figurine brings images to life. My goal is to bring a smile on your face when you unwrap our products. We are 3DMEfigurine.com, we design and create 3D figurines, miniatures of you and your loved ones. 3D Figurines are the mini version of yourself that you can physically hold in your hand. Be it your loved ones or yourself, we make sure that our products bring the joy and create an everlasting memory. We are a group of young dynamic people who love to convert your images/photos into life-like figurines made of sandstone. We love doing what we do as we know our products can make a difference in your life, in your relationships and more. Order your figurine for yourself or as a gift to your loved ones; 3D figurines are the unique gifts you could ever think of.